Mark Winter is an award-winning New Zealand cartoonist, designer and film maker and his pen name, Chicane, signifies a deceptive bend. The extent to which the man himself is deceptively bendy is a matter for some head-shaking debate. Since his first ventures into cartooning, for the Otago University magazine Critic in 1976, he has refined his once-detailed style to something cleaner, sharper, and more confident, often juxtaposing visual and verbal ideas. Mark (or is it Chicane) is a former New Zealand Cartoonist of the Year, having won the QANTAS Media Award for the second time in 2008.
He is currently living in London. He has a masters degree in semiotics and, to be fair, it's still a matter for local debate whether Mr Winter's more rarified academic studies into the science of decoding static images do more to explain his own work than being fried by a near-fatal electrical shock as a 21-year-old, when he was belted from the mains while he tried to clean a car. A few weeks later he put a fork down a toaster and got banged again. (And people call cartoonists cynics . . .)
Mark has always had a penchant for travel, which oftentimes has required him to file his cartoons from afar. He's been a hunched audience member, penning an urgent cartoon from his underlit seat during the first act of a West End production of Les Misérables. He has found himself desperately casting around for fax machines – and finding them – from such varied places as the Empire State Building, Lord's Cricket Ground and, for reasons that needn't trouble us here, Lord Jeffrey Archer's London penthouse. He has walked the streets of Paris at 2am, ending up at the Moulin Rouge explaining to "two pimps and a couple of women wearing less than a Hallenstein's handkerchief" about his urgent need for fax.
(with thanks to Mike Fallow, who wrote the above piece as an introduction to Mark's book 'Chicanery' in 2008)
How does the 'Chicane' signature say 'Chicane'?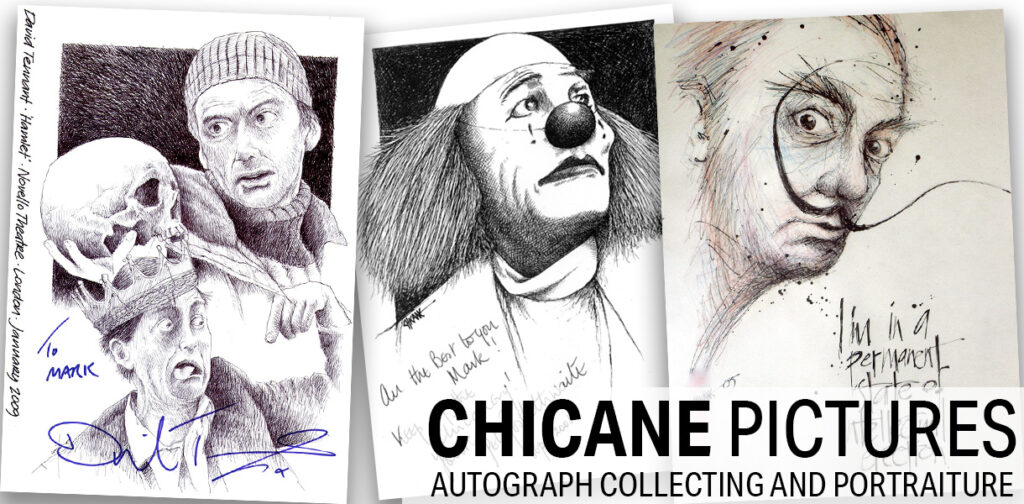 Mark is occasionally available to take commissions for artwork, caricature, cartoons or illustration projects. If you would like to discuss this further please contact us: